Get your devices fast tracked!
Quality instruments without compromise
Our 'Fast track, quality instruments' brochure is out now! The featured devices are aimed at light duty applications such as utilities measurements on process plants and offer basic functionality without compromising on quality. Almost every item is kept in stock in the UK, guaranteeing availability and quick delivery. We're also offering a 15% discount on each device if purchased with one or more of our featured accessories - and we'll deliver them directly to you within 24 hours!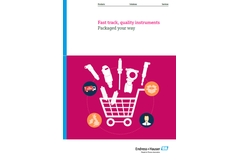 To download the brochure now, just click on the 'Fast track, quality instruments' link on the right-hand side of the page.
Create your own bundle
Choose from our range of carefully selected instruments and accessories to make up the package best suited to your application.
Expert assistance
If you need any help to complete your order or to identify the correct instrument for your process, contact us via email: fasttrack@uk.endress.com or directly on our dedicated telephone number: 0161 286 5050. We're available to help Monday to Friday, 08:30–17:00.
Delivery outside of the UK mainland
Our couriers offer guaranteed delivery the next working day to the UK mainland only. For delivery to the Isle of Wight and the Isle of Man, please contact us for an estimated delivery date.
Next day delivery
All of the items in this catalogue (with the exception of Promag flowmeters) are held in stock at our UK headquarters in Manchester, guaranteeing availability. Every order received before 2:00pm will be shipped to you free of charge with delivery the next working day.