TempC membrane
Latest technology solves temperature problem
The TempC membrane offers improved accuracy and process safety in difficult pressure and DP applications. It utilises a completely new technology to dramatically reduce the influence of process and ambient temperature fluctuations.
In applications with process temperatures from -40°C to 250°C, it offers a very short recovery time after temperature shock, for example at the end of a CIP/SIP cleaning cycle, when compared to conventional diaphragm seals.
Benefits
Available for the Cerabar PMP55 and PMP75 and Deltabar FMD78 pressure transmitters.

Covers our range of hygienic process connections for the food & beverage and life sciences industries.

Laser welded in place ensuring a very smooth finish and making it very easy to clean.

Complements the existing range of pressure measuring cell technologies available: the Ceraphire ceramic cell, condensation-tight CONTITE cell, metallic measuring cell and the electronic DP solution.

We provide the best possible solution, however challenging the application!
Employed across the process industries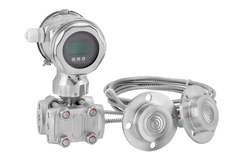 Pressure and differential pressure transmitters are employed across all industries for many different applications such as process pressure measurement, hydrostatic level, differential pressure and even flow measurement, across filters, packing, heat exchangers and many others. Sometimes the application determines that the instrument requires a diaphragm seal design, typically due to extremes of process temperatures, corrosive media, plant vibration, viscous media or hygienic requirements.
The problems faced by conventional membranes
Whilst diaphragm seals are very useful in solving some challenging applications they can suffer from poor performance due to changes in both process and ambient temperature. Changes in temperature will cause the oil fill in the system to expand or contract. Conventional membranes can have a high degree of stiffness so the oil expansion or contraction has little effect on the membrane but instead acts upon the measuring cell thus causing errors in measurement.
Reducing measurement errors by up to 90%!
With this in mind, the innovative new TempC (temperature compensatory) membrane has been designed to be much more flexible, thus absorbing any oil expansion or contraction. This can typically reduce these measurement errors by up to 90%, therefore providing much improved measurement stability, reliability and potentially greater process safety.
Example:
Pressure transmitter with 1½-inch SMS (hygienic) diaphragm seal connection and silicone oil fill
W​ith a conventional diaphragm seal, errors of 4.4 mbar for a 10°C change in just ambient temperature could be expected, ignoring any process temperature change. The TempC membrane reduces the error to 0.8 mbar per 10°C ambient temperature change, performing 5.5 times better than a conventional membrane!
Downloads
TempC Membrane

Highest accuracy and process safety in pressure and differential pressure measurement with diaphragm seals