Overfill prevention
Safety of your plant and personnel
The introduction of new COMAH regulations in 2015 has once again brought the issue of overfill prevention to the fore. Many smaller firms affected by the rules for the first time and larger companies who are now subject to more comprehensive requirements are taking the opportunity to improve their existing plant.
Benefits
Installing an effective overfill prevention system ensures plant and personnel safety, regulation compliance and environmental protection.

Avoiding product overfill saves time and money in terms of clean up costs, claims for damage and potential fines.
Control of Major Accident Hazards (COMAH) regulations
With the latest COMAH 2015 regulations, more companies are required to inform the authorities about the dangerous substances they hold or those that could be generated in the event of accidents. Sites are divided into 2 categories: top-tier sites (hold a greater quantity of dangerous chemicals) and lower-tier sites. The top-tier are dominated by chemical and oil & gas facilities but also include distilleries. Overfilling in the distillation process is both costly and dangerous.
Systems must be put in place to prevent overfill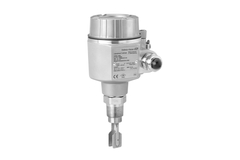 In recent years, industry has moved away from float switches to more reliable devices based on the tuning fork principle, for example the Liquiphant. In its simplest form this device monitors its own condition continually and warns of failure before the level reaches the switch. This condition monitoring has resulted in Liquiphant systems created to comply with IEC 61508 and to be compatible with SIL systems. The majority of Liquiphant devices can conform to SIL2 (most common level required).
Hazardous area requirement for distillers
The whisky industry also requires systems certified for hazardous areas as well as SIL devices. Here the Liquiphant is used with a Nivotester mounted in the safe area panel. The Nivotester provides easy-to-use relays that can be hard-wired in the panel, a safe power supply to the Liquiphant, continuous monitoring of the loop and a convenient place to carry out a proof test. Pressing a button on the Nivotester acts as a system test to prove the reliability of Liquiphant in preventing overfill.
SIL3 in a single device
Some installations, though, are much higher risk and as such require higher integrity systems to SIL3. The solution to this in the past has been to use two devices in a redundancy system to reduce the probability of an unsafe condition going unnoticed. However, this has the disadvantage of requiring two process connections and increases the risk of false alarms.
Built to the highest integrity standards
The Liquiphant FTL80 series offers SIL3 levels of protection with a single device and installation point. The system also includes a Nivotester transmitter for easy panel work and proof tests. The device is built to the highest integrity standards with redundant components and continuous self-checking and loop monitoring. This results in a system that is reliable and easy to proof test, although it offers such reliability that a proof test is not required within its normal working life.
Reliability decreases with age
IEC 61508 and 61511 define an instrument's normal working life as 8 to 12 years. Sites with overfill warning systems older than this should be looking for a replacement to avoid unpredictable performance. Endress+Hauser's Liquiphant systems provide easy retrofit solutions - in some cases they can even be provided with process connections to replace old float switches.
A high level system may not be enough...
However, in the chemical, oil storage and distilling industries a high level system to prevent overfilling may not be enough. A contents measuring system that tells the operator how full the tank is before any further filling is often required. The ideal solution here is Micropilot radar and Levelflex guided radar level systems that are built to give the same reliability and performance standards as the Liquiphant, with SIL qualification and easy proof testing.
When the systems are combined they provide optimal safety and functionality. In cases where there is a large number of tanks, radar systems and Liquiphants, Endress+Hauser can engineer bespoke integrated systems to provide a complete tank gauging and safety solution.
The importance of system maintenance
Of course maintenance of your new system is just as important as its correct installation to ensure continued reliable performance and compliance with regulations, including COMAH. Endress+Hauser offers a range of support throughout your system's life cycle, from commissioning to regular maintenance and record-keeping, to ensure your instrumentation remains both safe and accurate.
Simple products

Easy to select, install and operate
Technical excellence
Simplicity
Standard products

Reliable, robust and low-maintenance
Technical excellence
Simplicity
High-end products

Highly functional and convenient
Technical excellence
Simplicity
Specialized products

Designed for demanding applications
Technical excellence
Simplicity
FLEX selections
Technical excellence
Simplicity

Fundamental selection

Meet your basic measurement needs

Technical excellence

Simplicity

Lean selection

Handle your core processes easily

Technical excellence

Simplicity

Extended selection

Optimize your processes with innovative technologies

Technical excellence

Simplicity

Xpert selection

Master your most challenging applications

Technical excellence

Simplicity
Success stories
Increasing safety levels

Our tank overfill prevention solution with independent high-level alarm was installed in the Middle East and helped our customer minimize risks of major hazards.