The world's first self-calibrating temperature sensor
Save time, money and maintenance effort with TrustSens
Endress+Hauser's TrustSens probe contains unique technology to provide autonomous inline self-calibration. Instrument calibration can be costly to your process in terms of your budget and production time. Stopping your process in order to perform calibrations, the purchase and maintaining of specialist equipment and allocating engineer resource to perform instrument calibrations can reduce overall efficiency while driving up repeated annual costs of operation.
Benefits
Achieve return on investment in less than two years! Save time, money and maintenance effort.

Eliminate unscheduled production downtime with automated and fully traceable inline self-calibration.

Minimise your risk of product wastage due to instrument drift.

Automatic digital document production (stores up to 350 calibration points).

Enjoy full regulatory compliance and audit trail with printable certificates.
Self-calibration at 118°C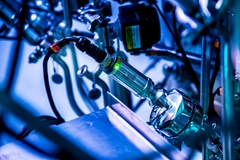 The accredited and traceable self-calibration of TrustSens occurs without instrument removal or a break in production, only requiring a heat cycle that rises up to 123°C and cools back past 118°C whenever a calibration is required.
Reliable and fully certified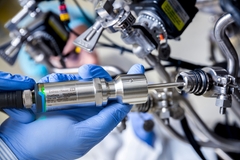 As a self contained and autonomous instrument, TrustSens not only calibrates itself against an internal reference (traceable to ITS-90) but also produces a digital calibration certificate and stores this document, along with 349 other entries, within its electronics. These calibration certificates are ready to be extracted whenever is convenient for you and your process.
Reducing the cost of calibration
This feature works to create benefit by minimising calibration costs of the instrument while helping to reduce the risk of product wastage by introducing more regular calibrations eradicating unacceptable, unidentified instrument drift. Our self-calibrating temperature probe will achieve return on investment in (typically) less than two years - and often much quicker!
Will the output signal be adjusted if there is a deviation?
No, TrustSens will not adjust the output signal following a self-calibration - it will only record the deviation amount on the calibration certificate. An acceptable upper and lower level of drift, determined by the user, can be programmed into the TrustSens parameters and an alarm status can be set against each of these limits highlighting an out of tolerance accuracy.
How do I extract the calibration certificate from TrustSens?
Each calibration certificate generated (up to a maximum of 350) is stored within the memory of the TrustSens instrument and can be easily accessed via Endress+Hauser's DeviceCare or Fieldcare software across HART communication.
Why should I trust a one-point calibration?
Each TrustSens device is transmitter/sensor matched at the point of manufacture using the CVD algorithm to produce a highly accurate instrument. Should the Pt100 sensor drift in a linear manner (an offset failure), then a one-point calibration will show a deviation that is equally apparent across the full range. If required, a manual adjustment can be made.
Should the Pt100 drift in a non-linear manner (a failure of the gradient or curve) than any deviation will be much more apparent at higher temperatures, which means a calibration at 118°C will show this deviation far more clearly than at lower temperatures (at 37°C for example).
Interested?
For further information on how TrustSens will help reduce your calibration costs (including a tailored cost savings calculation), please contact your local Endress+Hauser representative or our Manchester office in 0161 286 5000.
Simple products

Easy to select, install and operate
Technical excellence
Simplicity
Standard products

Reliable, robust and low-maintenance
Technical excellence
Simplicity
High-end products

Highly functional and convenient
Technical excellence
Simplicity
Specialized products

Designed for demanding applications
Technical excellence
Simplicity
FLEX selections
Technical excellence
Simplicity

Fundamental selection

Meet your basic measurement needs

Technical excellence

Simplicity

Lean selection

Handle your core processes easily

Technical excellence

Simplicity

Extended selection

Optimize your processes with innovative technologies

Technical excellence

Simplicity

Xpert selection

Master your most challenging applications

Technical excellence

Simplicity