Endress+Hauser environmental legal compliance and recycling
Recognising the importance of waste and recycling
The production of waste is a result of economic and social activity by businesses and consumers. There are costs and benefits involved in using the resources in the production process and the benefits gained from consuming goods and services. At Endress+Hauser UK, we take our responsibilities seriously in terms of minimising the impact on the environment through sensible management of our waste, thereby meeting our obligations in helping to protect the environment.
Endress+Hauser and recycling
At Endress+Hauser UK, we recognise the impact waste has on our environment and importance to act responsibly before sending waste to landfill.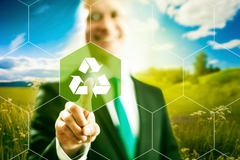 We do not send paper, card, wood and general waste to landfill. Here in Manchester we encourage the practice of separation and segregation of our waste. We ensure anything we throw away is used as refuse derived fuel or undergoes another sustainable process such as anaerobic digestion.
Recycle more
Our packaging can be recycled and should abide by your local recycling rules, such as separation and reuse, before sending to waste. It is important to note that often symbols on packaging can be confusing. The Recycle More businesses pages will help you to understand the meaning behind different packaging labels that are around in the UK. For more information, visit: www.recycle-more.co.uk/cp4.php
Environment and Corporate and Social Responsibility
in 2021 Endress+Hauser became an accredited member of The Green Organisation, and has also signed up to the Code of Green Conduct.
The Green Organisation is an international, independent, non-profit, non-political, environment group, dedicated to recognising, rewarding and promoting environmental best practice around the world.
See the following certificates:
Silver Membership of The Green Organisation