Bespoke engineering for the oil & gas industry
Tailor-made level, flow and temperature solutions
Endress+Hauser is home to a wealth of knowledge in engineering design, material procurement, project management, manufacture and inspection of equipment destined for high-end applications often found in the oil & gas industry. With extensive experience of major projects around the globe, all orchestrated and executed successfully from our Manchester facility, we bring together complete solutions borne from 'best fit' products, unrivalled support and expertly executed bespoke engineering.
Level engineering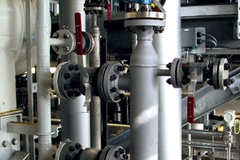 Our extensive level product range is complimented by a range of mechanical components that are designed specifically to suit your application in a variety of materials. All welding is performed by qualified welders to approved procedures and designed in accordance with PED and piping requirements where applicable. We offer a bespoke design service using standard of exotic materials to manufacture level accessories such as:
Flow engineering
Measuring the flowrate of liquid, steam and gas is one of the most important areas of application. Complementing our existing flow portfolio of electromagnetic, Coriolis, vortex shedding and thermal meters, Endress+Hauser offers a range of primary devices from orifice plates, flange assemblies and orifice carriers to flow nozzles and Venturi tubes – all accredited to BS EN ISO 9001 standards.
Square-edged orifice plate
The square-edged orifice plate is one of our most popular low-cost flow measurement solutions. It can be used for general purpose flow measurement and is economical, easy to install and versatile.
Venturi tubes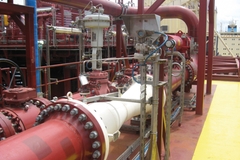 The classic Venturi tube, either machined from solid metal or fabricated from rolled plate metal, can be provided for reliable flow measurement with the additional benefit of low pressure loss and minimal upstream piping requirements. It is used extensively in arduous metering applications such as sub sea manifolds, where space and energy conservation is at a premium.
Our promise
All equipment is designed and manufactured in accordance with the requirements of the Pressure Equipment Directive 97/23/EC.
Temperature engineering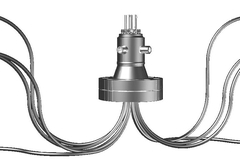 Endress+Hauser Ltd has been manufacturing temperature assemblies for over 30 years - solid drilled thermowells and RTD assemblies are standard work. With the high cost of energy, improved technology and increased critical process applications, accuracies of better than 0.1°C are often requested. As process automation evolves, the devices that monitor such critical parameters become increasingly important.
Increased lifespan
In order to increase the lifespan of critical thermocouples and resistance thermometer insets, thermowells are provided to increase process safety and sensor reliability. We design and manufacture products in a wide selection of materials, e.g. ceramic, hastelloy, titanium, tantalum and all grades of stainless steel. Sensors are available in single, duplex and triplex construction and units are offered as small as 0.5mm diameter, with up to 30-way multipoint assemblies for reactors and tanks.
Highly complex bespoke engineered temperature solutions
Our speciality lies in the fact that we are well versed in the manufacture of highly complex bespoke engineered temperature solutions and our expertise has been widely used for multipoint temperature measurement devices such as:
Flexible: steel wire rope type assemblies
Rigid: hollow tube assemblies
Optimised multipoint: semi-flexible coaxial MI cable
Flexible: 3D vessel profile multipoint
Materials
Endress+Hauser offers expertise in both the application and manufacturing of devices from exotic materials such as:
Competence
Our engineering team are experts in the latest versions of applicable standards, specifications and regulations such as:
ASME design specifications
NACE material specifications
Downloads
UK Centre of Competence in Manchester

A wealth of knowledge in engineering design, procurement of materials, project management, manufacture and inspection of equipment destined for high-end applications found in the oil & gas industry.

| | |
| --- | --- |
| Language: | English |
| File size: | 709.2 KB |
| File name: | PU01106ZEN.pdf |