Endress+Hauser environmental legal compliance and recycling
Recognising the importance of waste and recycling
The production of waste is a result of economic and social activity by businesses and consumers. There are costs and benefits involved in using the resources in the production process and the benefits gained from consuming goods and services. Here at Endress+Hauser, we take our responsibilities seriously in terms of minimising the impact on the environment through sensible management of our waste, thereby meeting our obligations in helping to protect the environment.
Endress+Hauser and recycling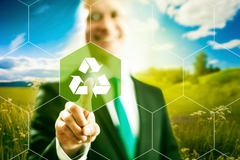 Endress+Hauser recognises the impact waste has on our environment and importance to act responsibly before sending waste to landfill. Access your obligations to Environmental legislation and compliance with the UK waste management plan by visiting the business section of the Recycle More website: www.recycle-more.co.uk/cp4.php
The problem of landfill
The cost of putting waste into landfill sites has been steadily rising since 2001 and currently sits at £82.60 per tonne. Recycling office waste can save your company money and help reduce its impact on the environment.
Recycle more
Endress+Hauser packaging can be recycled and should abide by your local rules and separation and reuse before sending to waste. It is important to note that often symbols on packaging can be confusing. The Recycle More businesses pages will help you to understand the meaning behind different packaging labels that are around in the UK. For more information, visit: www.recycle-more.co.uk/cp4.php