Renewable Heat Incentive (RHI)
Compliant metering, consultancy services and reporting solutions
The RHI is the world's first long-term financial support programme for renewable heat. Launched in November 2011, the scheme for the non-domestic sector provides payment to industry, businesses and public sector organisations for the generation of heat from eligible renewable technologies. By increasing heat generation from renewable energy sources (instead of fossil fuels), the RHI helps the UK to reduce greenhouse gas emissions and meet targets for reducing the effects of climate change.
Benefits
We have an in-depth knowledge of the scheme and can offer guidance on what and where to measure heat.

We have a comprehensive portfolio of RHI-compliant metering solutions for a variety of fluids including thermal oils, steam and condensate.

We have qualified consultants who can provide an Independent Report on Metering Arrangements (IRMA) required by Ofgem.

We understand the importance of accurately metered heat data and can provide simple low-cost solutions to collect, store and report on eligible heat consumed, revenue generated for given tariff payments and loss of data.
RHI-compliant metering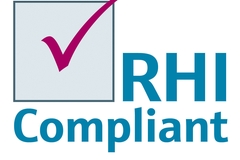 Biomass boilers provide the majority of the RHI scheme's renewable heat. In order to obtain RHI accreditation for biomass steam boilers and receive tariff payments for the heat generated, eligible RHI-compliant steam heat and condensate metering must be installed. We offer a wide range of devices ideal for both condensate heat metering and steam and oil heat metering.
Consultancy services: IRMA
An Independent Report on Metering Arrangements (IRMA) is intended to verify to Ofgem that an installation seeking RHI accreditation has eligible metering arrangements in place, such as appropriately located and installed meters. An IRMA assists applicants by providing independent verification that their system installers have provided an RHI-compliant system, therefore helping to reduce the number of applications with issues relating to metering eligibility.
Competent professional advice on metering arrangements
We can advise on the type of meters allowed and the evidence required for their compliance. We provide guidance on the number, type and location of the meters in order to determine the Eligible Heat Output (EHO). Our consultants meet Ofgem's requirements for a 'competent person' and as such are qualified to provide an independent report (IRMA). This report is required for large-scale biomass with capacities of 1MW and above or installations classed as 'complex' e.g. biomass steam boilers.
Automatic reporting
We offer simple cost-effective data collection and automatic reporting solutions focused on Ofgem reporting of the EHO of the accredited scheme. We can generate payments based on tariffs – even those that are index linked and change annually. Our data logging solutions are simple, cost-effective devices capable of storing and forwarding heat energy data across the Internet via email to cloud-based data management software (on premise or in cloud).