Supporting your digital journey
Register for a showcase of our IIOT apps
The Industrial Internet of Things (IIOT) offers many advantages to the process industry: predictive maintenance, asset information management, remote device configuration and process optimisation to name but a few.
Hololens
Take a look through our Hololens mixed reality glasses and glimpse the future! Using our Vision Blue App, engineers can identify problems remotely and collaborate with workers on-site in real time. And plant operators can learn how to install, commission and maintain their assets without needing a technician on site!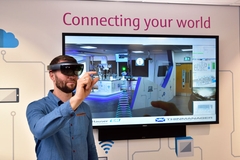 Scanner App
Digitalise your plant with our Scanner App. Take a photo of your instrument, save some data and there you have it – a digital twin! Create lists, organise your assets the way you like and increase your knowledge of your installed base. From now on, you'll have everything instantly available on your mobile devices. Or ask us about our Edge device – it will do it all automatically for you!
Health App
Or maybe you're interested in our Health App? It'll help you understand how to react when an unexpected event occurs on a key component of your production line or plant. That's what Health is all about. Health provides, wherever you are, a deep source of knowledge related to the maintenance and care of your assets – making maintenance simple.