Robust flowmeter is a perfect match for oil & gas
Promag 53P high pressure electromagnetic flowmeter
With the introduction of a new high pressure electromagnetic flowmeter, Endress+Hauser now offers a complete portfolio of instrumentation for the oil & gas industry. Robust and approved for use in hazardous areas, the Promag 53 is ideal for demanding environmental and process conditions. And as it's based upon proven-in-use Endress+Hauser flowmeter technology, you can rest assured the new Promag is a perfect choice for both your upstream and downstream applications.
Robust design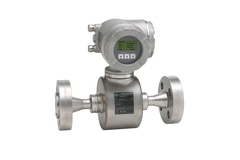 The material specification and construction of the Promag 53 have been chosen to withstand the rigours of the oil & gas industry and to meet its demanding safety standards. The sensor design, materials and non-destructive test procedure conform to EN13480 and ASME B31.3 for the highest possible plant safety. As well as having all the relevant certification, the Promag 53 is compact and fully welded to ensure it's robust enough to ensure the toughest conditions and is accurate to 0.2% of reading.
Sturdy materials
The materials used for the large variety of process connections as well as the measuring tube are typically UNS31254 (6Mo), guarding against sulfide cracking. ASME Cl.600 to Cl.2500 process connections can be used up to 400 bar system pressure. The device also comes with a range of hazardous area approvals including ATEX II 2G and ATEX II 2D. FM and CSA approvals are also available.
Typical applications:
Water injection (or produced water re-injection) for enhanced oil recovery (EOR) to increase reservoir pressure.

Produced water injection into disposal wells: Measurement of the amount of the disposed water/ water discharge.


Potash mining: Injection of heated brine (salt & water solution at up to 100°C) to retract potash from the underground ore.