Made-to-measure Service Agreements
With 60 years' experience in industry, we understand what you need from a Service Agreement.
Our 'made-to-measure' Service Agreements shouldn't just be viewed as an insurance package but also as a means to achieving maximum value from your measurement devices. We'll conduct a free on-site survey with you that enables us to determine a precise equipment list as well as tooling and access requirements.
Benefits
Increase production uptime/plant availability.

Ensure the quality of your measurement.

Increase the longevity of your devices.

Meet legislative requirements.
Unique solutions for unique customers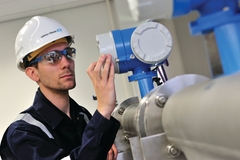 Our customers' requirements are incredibly varied and this diversity is reflected in the Service Agreement packages we offer. Unlike a simple warranty, a Service Agreement offers far more than the repair of a failed device. In addition to regular, planned checks, we also offer an on-going support option which would, for example, cover costCalls in the event of an unexpected breakdown and keep upheaval to a minimum. Our technical support line available 24/7 for Service Agreement holders.
Flexible for the future
As new devices are added, we can ensure that they're integrated into the existing agreement and given a single renewal date, removing unnecessary administration.
Crucially, Service Agreements allow us to plan in advance, ensuring we allocate the necessary resources and can offer price incentives, for example a 10% reduction for an up-front three-year Service Agreement.
Get in touch
Our dedicated Service Agreements team ensures that you speak to the people who can best advise you on your service requirements, year-round. With Endress+Hauser as your trusted partner, you can be confident that we will look after your measurement assets, allowing you to stick to what you do best!
Call our Service team today on 0161 286 5150