Dissolved oxygen assembly
Cleanfit COA451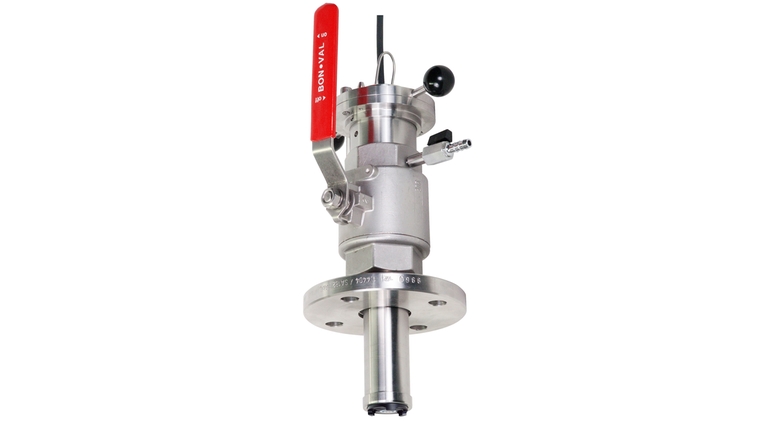 Retractable assembly for water, wastewater and utilities
Cleanfit COA451 is a retractable assembly for all fields of dissolved oxygen measurements. It is equipped with a stop bolt, O-ring seals and a ball valve, enabling complete isolation of process and sensor compartment. This allows you to access the sensor without interrupting the process or emptying the pipe or tank. Better still, benefit from increased process and operational safety and significantly reduced maintenance effort across the whole measuring point.
Quick selection
Choose from our suggested options
Individual configuration
Continue your selection from all possible options
Benefits

One assembly for all applications: The 'one for all' principle optimizes stockholding, speeds up project handling and simplifies life cycle management.

Easy and safe maintenance: Sensor service and cleaning without process interruption.

Robust design:...
Field of application

Cleanfit COA451 is a retractable assembly for oxygen sensors with a diameter of 40mm in:

Wastewater treatment plants:
- O2 control in the aeration basin
- Process water treatment and monitoring

Water works:
- Status monitoring of drinking water
- Water...
Documents / Manuals / Software
Accessories / Spare parts
Kit COA/CUA451:Sensor holder CUS41Long

For Sensors CUS41, CUS51D, COS31, COS61, COS61D

Kit COA/CUA451:Sensor holderCUS65short

For Sensors CUS65, COS41, COS51D

Nr

1,2

Order code

71475985

Kit CUA451/COA451 Bayonet nut

Nr

1,2

Order code

71485020

Nr

6,7,9,11,1

Order code

51513169

Kit CxA451: Set of small components

includes 5 bracket, 10 Securing screws 2 Bayonet lock, 15 Grub screw 1 Greace nipple

Nr

8,16,17,18

Order code

51513154

Kit CxA451: Ball valve with flange DN50

Nr

8,16,17,18

Order code

51513155

Kit CxA451: Ball valve w. flange ANSI 2"

Kit CxA451 Welding adapter R2" 1.4404

welded fitting 1.4571 DN50/ANSI

For retractable holder COA 461/CUA 461/ CPA451 / CUA451 / COA451. connection DN50 and ANSI 2". (Gasket to be provided by customer)

Welding socket for spray cleaning VA

for automatic spray cleaning of sensors CUS 31/41, CPF81/82 in tubes or tanks welding socket DN 65 with removeable spray jet and flange DN 50 / ANSI 2" for connection of CUA 461 / CUA 120-B / CPA451 / CUA451 / COA451 Material: SS / Viton Connection spray tube: Thread R 1/4" Pressure / temperature: 6 bar / 80oC