Effective, hygienic conductivity measurement
Smartec CLD18: designed for hygiene
Designed for use in the food & beverage sector, the Smartec CLD18 conductivity measurement system offers real value for money. With 3-A and FDA approvals and a range of hygienic process connections, the CLD18 has been cleverly designed to provide reliable, cost-effective conductivity measurement in various food & beverage applications including product monitoring, phase separation and simple CIP application.
The straightforward solution to conductivity measurement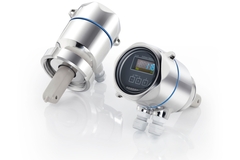 Compact yet robust, the Smartec offers a simple solution to straightforward conductivity measurement. It features IP69K protection for high temperature and high pressure washdowns and can withstand temperatures from -10°C up to +130°C. It's also great for smaller pipe diameters making it the most cost-effective choice for a range of food & beverage applications such as bottling plants, dairies and breweries.
Compact and cost-effective
Whilst the Smartec CLD18 has been designed to be compact and cost-effective, there's been no skimping on features and functionality! Set-up couldn't be easier thanks to a pre-calibrated airset and two outputs, for conductivity and temperature, come as standard. Best of all, Smartec CLD18 has surface mount technology for immunity against plant vibration – so even if your application is susceptible to vibrations, your CLD18 will continue giving clear, reliable readings throughout.