Increase measurement accuracy by up to 95%!
Deltabar FMD71/72 eliminates the problems associated with traditional dp measurement
Differential pressure (dp) measurement is often used to measure level in pressurised and vacuum tanks. But there are problems associated with traditional differential pressure measurement that can lead to inaccuracy, process safety risks and greater total cost of ownership. We use proven pressure sensor technology in a new and innovative way to eliminate these issues - increasing reliability and safety whilst reducing maintenance costs.
Eliminate the problems of traditional dp measurement
Traditional dp systems with impulse lines has well-known issues with icing up or clogging, evaporation or condensation inside the lines leading to inaccuracies or leakage resulting in product loss and possible safety issues. With traditional capillary systems, changes in the ambient and process temperature can affect the measurement accuracy. These problems are avoided with the Deltabar FMD71/72 electronic dp system as it is independent of the ambient conditions, increasing accuracy up to 95%.
One transmitter, two sensor modules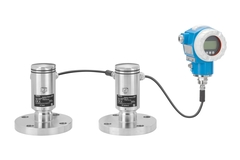 Unlike typical electronic dp systems, Deltabar FMD71/72 has one transmitter, rather than the usual two, and two sensor modules. This reduces costs by eliminating the need for a second transmitter and additional wiring. Another advantage is the automatic sensor identification offered - each sensor can be operated as either a high pressure or low pressure sensor, offering greater installation flexibility, reduced spare parts costs and eliminating the need for reconfiguration with a sensor change.
Modular design
The system's modular design ensures that repair costs and downtime are drastically reduced. Individual components can be replaced separately, significantly reducing maintenance costs and ensuring maximum plant availability. It's also easy to retrofit into existing mechanical systems, using the same transmitter mounting position. Additional measurement parameters are available via HART, enabling you to improve your process control.
Reliable, safe and cost-effective
Besides differential pressure and level it is also possible to get the process pressure information as well as the sensor temperature. This valuable information can not only help with maintenance but also improves safety, for example by avoiding overpressure. Electronic dp is up to 95% more accurate and up to 10 times faster in response time than inferior capillary systems. Rely on the Deltabar FMD71/72 to make sure your operation runs in the most reliable, safe and cost-effective way.
Related offering

Simple products

Easy to select, install and operate
Technical excellence
Simplicity
Standard products

Reliable, robust and low-maintenance
Technical excellence
Simplicity
High-end products

Highly functional and convenient
Technical excellence
Simplicity
Specialized products

Designed for demanding applications
Technical excellence
Simplicity
FLEX selections
Technical excellence
Simplicity

Fundamental selection

Meet your basic measurement needs

Technical excellence

Simplicity

Lean selection

Handle your core processes easily

Technical excellence

Simplicity

Extended selection

Optimize your processes with innovative technologies

Technical excellence

Simplicity

Xpert selection

Master your most challenging applications

Technical excellence

Simplicity