Cleanfit CPA875: Simple, safe and sterile!
The ideal solution for sterile inline measurement in the food & beverage and life science industries
The new Cleanfit CPA875 retractable assembly is the perfect solution for sterile, inline measurements in the food & beverage and life science industries. Used with sensors to measure pH, ORP, dissolved oxygen and NIR directly in the medium, it ensures complete sterility thanks to a clever sealing concept. Important safety features that prevent operator error make it easy to use and comply with the strictest hygiene standards.
No chance of contamination
Fully certified, the Cleanfit CPA875 has passed the bacteria cross-contamination test for the process seals in accordance with the EHEDG. Ideal for meeting the strict demands of the life science and food & beverage industries, the assembly features FDA-compliant aseptic seals and highly electropolished surfaces (Ra< 0.76μm or optionally Ra< 0.38μm) with no crevices or dead space to ensure optimum sterility and cleanability.
Dual chamber for maximum protection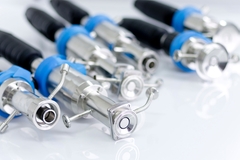 For optimum sterility, the assembly features a service chamber and optional front chamber. This ensures no contamination of service chambers by transfer of bacteria from a non-sterilised area. The front chamber can also be used to protect the process from contamination with cleaning fluid by using it as a blocking chamber. The dual chamber also allows the sensor to be checked, replaced, calibrated, adjusted and cleaned with hot water or sterilised without influencing the process.
Safe handling
For safe handling, the assembly features an end-position lock to ensure the sensor remains in position in event of compressed air failure. A protection cover prevents sensor removal in the assembly measuring position and protects the sensor from mechanical damage. Additionally, a safety insertion blockage ensures that the assembly cannot be moved into position if there is no sensor installed.
Simple maintenance and upgrade
Available with manual or pneumatic operation, the CPA875 has a patented modular design, enabling simple maintenance and upgrade without the need for any special tools. It is available in two different insertion depths to allow for measurements being taken in pipework or vessels and can be fitted with all standard process connections including tri-clamp, varivent, aseptic DIN11864 and DIN11851 dairy fittings.