CompEx training: EX01 to EX04
Get yourself CompEx competent!
The underpinning knowledge and practical assessment programme is provided for electrical personnel who undertake the physical installation and assembly of new Ex equipment and who perform preventive maintenance and inspections on previously installed equipment. This training focuses on CompEx modules EX01 to EX04.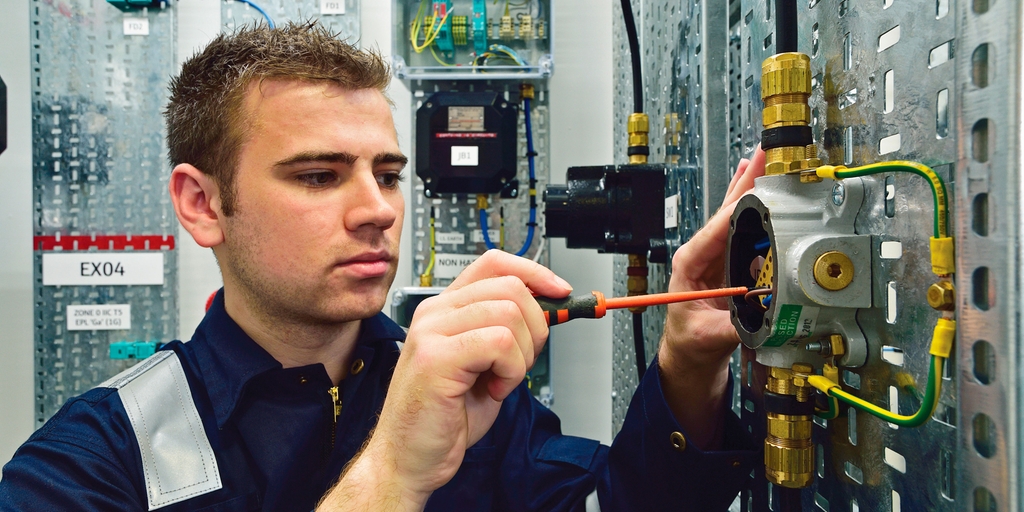 Content
Understanding of the general principles of explosion protection and types of protection and marking.

Understanding of those aspects of equipment design which affect protection concept.

Understanding of content of certificates and relevant parts of IEC/EN 60079-14 and the inspection and maintenance requirements of IEC/EN 60079-17.

Familiarity with the particular techniques to be employed in the selection and erection of equipment referred to in IEC/EN 60079-14.

Understanding of the additional importance of permit to work systems and safe isolation in relation to explosion protection.

Training on the practical skills necessary for the preparation and installation of relevant concepts of protection (hands-on training).
Objectives
Candidates will be certified and able to demonstrate competency in the selection, installation, inspection and maintenance of electrical apparatus in potentially explosive atmospheres.
Who should attend?
Electrical and instrumentation engineers and technicians.
Prerequisites
Adequate understanding of electrical systems to be worked on and practical experience of that class of system. Understanding of the hazards that may arise during the work and the precautions that need to be taken. Ability to recognise at all times whether it is safe for work to continue and understanding of the hazards which may arise during the work and the precautions which need to be taken.
Qualification
CompEx Certificate of Core Competence: EX01 - EX04
Contact
Endress+Hauser Ltd

Floats Road
Manchester M23 9NF
United Kingdom