Group management
Roles and responsibilities of our Executive Board and Supervisory Board
Implementing and casting corporate strategies into the right decisions in everyday business: this is the duty of the Executive Board – with the support of the Supervisory Board.
Executive Board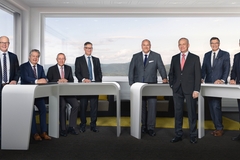 All members of the Executive Board are appointed by the Supervisory Board. They are accountable to the Annual General Meeting – in other words, to the family shareholders. Each board member has clearly defined responsibilities. Overall responsibility lies with the Chief Executive Officer (CEO) of the Endress+Hauser Group.
Guiding the company
The members of the board draft the strategy and implement it in consultation with the Supervisory Board. To do so, they must be specialists in their respective field and at the same time generalists. Their task is to identify tendencies and developments, and from there derive risks and opportunities for our Group.
Harmonizing activities
The fact that subsidiaries such as sales centers or production centers work independently is part of Endress+Hauser's corporate culture. It is the task of the board members to harmonize these activities and to bring them into line with the targets and objectives of the whole enterprise – through specifications, agreements, meetings and discussions.
Supervisory Board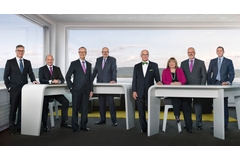 The members of the Supervisory Board of the Endress+Hauser Group advise the Executive Board on important issues and control adherence to fundamental principles. Key decisions require the Supervisory Board's approval.