Easily view your quotes and orders online
My uk.endress.com
"All my transactions are available for me to view online. I can access my quotes and orders, helping me to keep up-to-date with my daily business.
I can check delivery times, which helps me to plan effectively. More information such as delivery notes and invoices is also available. This saves me time as I don't have to contact Endress+Hauser".

Benefits
Keep up-to-date with your account activity

Save time, all information is immediately available

Easy re-ordering
How do I get started?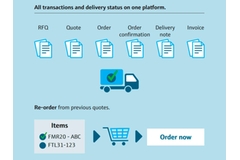 Everything you need is available on our website. Click 'Myaccount' at the top of the screen to register and open your account today. We'll get back to you soon with your log-in details.