Find the most suitable product for my application
My uk.endress.com
"I can select and size instruments to identify those suitable for my application. It's possible to enter my process variables e.g. flow rates and temperatures helping me further. Based upon the results, I can compare devices, helping me make the correct decision. Once this is done, the product configurator is easy to use. When I've completed my order code, I can view and download 2D and 3D CAD drawings"
Benefits
Industry specific recommendations

Option to enter process variables and see results based on these

Reliable, precise and easy to use

View and download CAD drawings in a range of formats
How do I get started?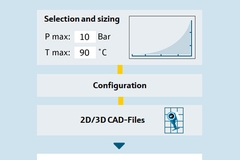 Everything is right here on us.endress.com! Click "My Account" at the top of the screen and select "Register" to request your account. Or simply click the button below on this page. After our team verifies your information, we will send you your personal account login information.