Find your favourite products using your reference numbers
My uk.endress.com
"I can save all of my favourite products. This helps us standardise and makes it easy for us to re-order. It's even possible to assign a reference number to each of our products. This makes things more convenient and we avoid ordering the incorrect things".
Benefits
Assign reference numbers to favourite or frequently ordered products

Quick and easy re-ordering

Avoid mistakes when ordering
How do I get started?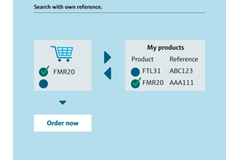 Everything you need is available on our website. Click 'Myaccount' at the top of the screen to register and open your account today. We'll get back to you soon with your log-in details.